4 Horse Hair Care Tips for a Healthy Mane
Riding around the countryside with the wind blowing over a horse's long, thick, healthy mane is one of life's greatest pleasures. So,  if you see that your horse's hair is becoming dull, brittle, or easily breaks, it's time to make some serious changes to their hair care routine. There's a chance you're not giving your horse the TLC it needs if its mane and tail are in bad shape.
If you feel like your horse's mane and tail could use a bit of extra shine and volume, here are some tips to give it the TLC it needs:
Protein-Rich Diet
You can't expect your horse's mane to improve with shampoos and other treatments if they aren't getting the nutrition they need. Reduced hair growth and increased hair loss are both symptoms of a protein deficiency. Amino acids and vitamins enhance the hair's outer beauty, making it appear healthier and shinier. Make sure your horse is getting feed and forage that is rich in amino acids, proteins, and vitamins.
Gentle Shampoo and Conditioner
A pet shampoo made with more all-natural ingredients will do a better job of cleaning your horse's hair, and it also helps you build a better bond with them. While shampooing, focus on the area at the hair's base, where the mane begins. This is where you'll want to give it a good, deep scrub to loosen dirt, grime, and debris. Scrubbing the base will not only properly clean it but also stimulate blood flow, which is essential for growth. Be sure to flip the mane over at this point and scrub the underside, which is typically the dirtiest area.
You should choose a nourishing conditioner without being too thick for your hair type. Oils in heavier conditioners attract dirt and speed the rate at which the mane becomes soiled. For easier application, dilute your conditioner with a small amount of water before applying it to the mane. Remember to give it a good rinse to eliminate any remaining product. Once the hair is dry, use our leave-in conditioner to replenish any natural oils stripped away.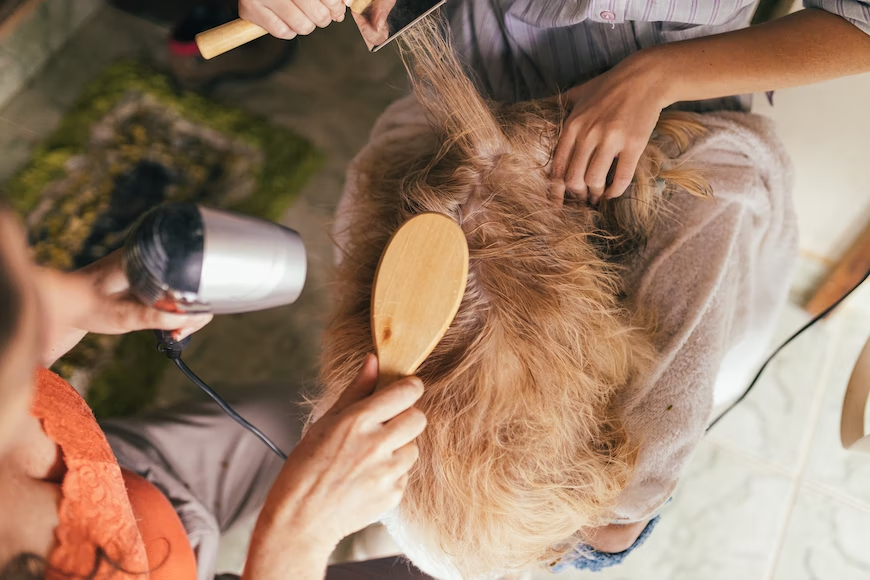 Braid the Mane
After washing and conditioning, braiding the mane can prevent damage from excessive brushing and shield it from dust, mats, and sun damage. There are no quick fixes for a sparse mane, but braiding is an effective tool and the key to preserving a horse's mane.
Comb it Out
When detangling the mane, use a wide-toothed comb to minimize tangling and breaking the hair. You can also use your fingers to carefully pick out minor knots and shavings. Our pet-safe, eco-friendly, foldable grooming comb is perfect for removing tangles, leaving your horse's mane looking sleek and soft.
Our selection of grooming tools and pet care products at Gou Gou Pets are designed to help your pets look and feel their best. Head to our pet care store for various pet shampoos, skin care products, and horse care products made using natural ingredients.
Get in touch with us today to learn more.