Your Guide to Perfecting Your Pet's Skincare Routine
Our canine companions are often so furry that we forget that beneath all that fur is a layer of skin. Their skin protects their body from harmful substances, including bacteria, dust, and fungi. If pet skincare is neglected, your dog could experience skin issues like itching, dryness, and rashes.
Want to learn how to create an effective skincare routine for your pet? Keep reading to find out.
Nutritious Diet
The key to healthy skin is a well-balanced, well-rounded diet. Feeding your dog a balanced diet will get all the minerals, nutrients, and vitamins they need for a shiny coat and beautiful skin. Protein is just as crucial as other micronutrients for staying healthy inside and out. Fruits, veggies, eggs, chicken, yogurt, etc. are all good sources of protein. Make sure your dog gets these nutrients every day.
Regular Grooming
Skincare and grooming go hand in hand. When caring for your pet, it's important to keep a close eye out for any signs of illness or injury, such as flea bites, skin lumps, rashes, or redness, and to brush regularly to remove any tangles or matted areas of fur. Cut their nails short to avoid being poked or scratched and to keep germs and dirt from settling into their nails. We have various tools in store, from a simple foldable pet comb comb to a pet pedicure kit with nail cutters and files, to help keep your dog clean and healthy.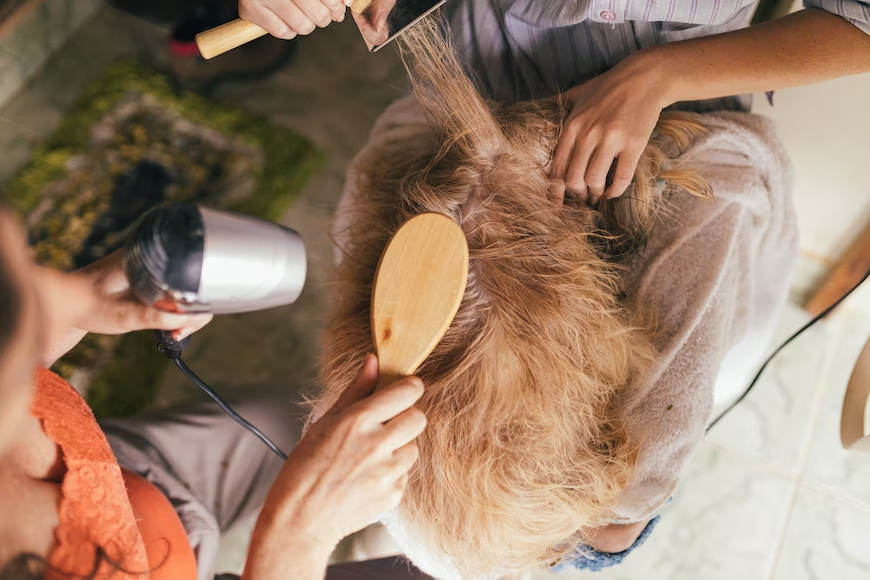 Showers
Dogs that spend a lot of time on the lawn or in the pool need more regular baths to remove the dirt and grime they collect outdoors. We have various high-quality dog grooming products at Gou Gou Pets, like organic pet shampoos. Our soothing and naturally-derived pet care products make bathtime a relaxing pampering session for your beloved pet.
It is also essential to brush your dog's fur regularly. This helps detangle the fur, increase circulation, distribute the skin's natural oils, and provide ventilation beneath the coat — all of which can reduce the risk of infection.
Check for Bug Bites
Parasites such as fleas, ticks, and mosquitoes can lead to a range of skin problems in pets, including itching, redness, swelling, and inflammation. Not only can bug bites be painful, but they can also result in bald spots, rashes, and other skin irritations. Therefore, the most important part of your dog's skincare routine should be taking care of bug bites and wounds. Part your dog's fur regularly to check for fleas and ticks, and use our flea and tick shampoo or preventative medicines after consulting your vet.
Here at Gou Gou Pets, we offer a great selection of pet care products online at unbeatable prices. Our pet care store has all the items you need to ensure the health and happiness of your furry family members. Check out our dog grooming products online, including organic pet shampoos and skin care products.
We also carry pet care products like anti-inflammatory shampoos, paw ointment, and dog dermatitis medicine. Get in touch with us today to learn more.